Hey All, The Maury Povich show (yes, apparently it still exists) is doing a "nerd" makeover / before-and-after show.  Anyone interested? If so, contact this guy by September 6, 2012.  I believe the show tapes on September 20, 2012:    Contact: davidr.block[AT]nbcuni.com
Apparently they're first looking for people who once looked 'nerdy' and now 'don't look nerdy.' They seem keen on having before-and-after pictures.  Go for it if you want.   I'm just the messenger…
Tired of pub trivia games that focus too much on sports and politics?  Well here's your chance to flex your knowledge of all-things-theatre as the folks from Nerd Nite and the Signature Theatre present Nerd Nite Trivia: Theatre Edition.  So assemble a team (up to 6 players) and put on your thinking caps – and your make-up – and head to the glorious Signature Theatre on Tuesday September 18 at 9:25pm.
Buy tickets now ($10) at http://www.regonline.com/nerdnitetrivia
Tuesday September 18, 2012 at 9:25pm
Signature Theatre
480 West 42nd Street
New York, NY 10036
Hey NY-area folks,
Here's a casting call I was asked to pass along:
ARE YOU A NERD or SUPER QUIRKY? DO YOU LOVE NERDS AND FIND THEM SEXY?? (NY metro area only)
MTV World is looking to cast men and women in their 20's for a pilot that showcases what is sexy around the world and we're looking for…"the nerdy and bookish sex symbol." We want to meet the people that don't fit into the traditional mode of a "sex symbol," but to many out there they personify what sexy IS. We want to showcase who they are and find out what they think makes them sexy.
MTV World is shooting a pilot about a new model of sexiness…"the nerdy and bookish sexy symbol"…and we need YOU to tell us why you love these kind of men and women. If you're in your 20's and you think these kind of folks are sexy we want to know why!
EMAIL: MELISSA.CASTING@GMAIL.COM w/ NERD in subject line w/ recent photos, full name, contact #, age and current city.
On Friday, February 3, 2012 at this month's Nerd Nite, Chevrolet will offer vehicles for Manhattan dwellers to transport themselves to our speed dating and presentations, as well as chauffeured transportation home following the event.  Pre-event vehicle loans and post-event shuttle service are first-come, first-served with limited seats so RSVP ASAP to GMNortheast@gm.com if you're interested.
The Pick-Up Deets for this Friday February 3:
6:15 & 6:30pm:  First 20 guests who RSVP can pick up a Chevy car for themselves and their group, before doing the other kind of picking up at Nerd Nite speed dating.
8:15 & 8:30pm: First 50 guests who RSVP can ride in style to our evening presentations in Brooklyn.
Pick-up spot:  Union Square in front of Parsons The New School for Design  – 5th Avenue at the corner of 13th Street. When RSVPing for pre-event loans, please indicate if you'd like to be a driver or passenger.
Chevrolet cars will also be on hand in DUMBO following Nerd Nite to offer shuttle service back to Union Square.  Save the cab fare and come check out all that Chevy has to offer – from dependable, long-lasting pickups and SUVs, award-winning passenger cars and crossovers, and other "gas-friendly" Chevrolet solutions.
The Openhouse Gallery in NOLITA (Manhattan) has been transformed into an indoor oasis – well, a park – now that winter temperatures have finally arrived and you're craving some usable outdoors-esque space.  So join us on Thursday February 2 at 8pm for a special evening of Nerd Nite Trivia. Bring a team of up to 6 people and compete against other smarty pantses from across the city. Winners get Fatboys, tickets to events at the Rubin, magazine subscriptions, Apple gift cards, and Built NY cases for your super nerdy but incredibly useful phones, iPads, Kindles and computers SOLD OUT!!! SORRY!!       Important:  This night is BYO!  So bring some yummy beverages and spend less money than you were planning to…
 I'm excited to announce that in conjunction with LG, on Friday November 11, 2011 at the Openhouse Gallery in NOLITA, we're hosting a speed dating event for 15 single fellas and 15 single lasses as part of the CNET Gotham experience.  As always, I will host the nite, but this time I'll have help from Bridget Carey, the host of CNET's new show, Checked In. (Speed Dating is Sold Out)
And after speed dating we'll have two regular Nerd Nite presentations open to everyone – for free.  In the spirit of looking for love, we'll bring you Hot or Not? How to Manipulate People's Perceptions on Physical Attractiveness by Lillian Park and Hey, Where's My Robot Girlfriend? The Singularity, Sperm Bots and the future of sexual technology by Laura G. Duncan.
Nerd Nite Speed Dating (15 hetero fellas and 15 hetero lasses)
Friday, November 11, 2011
Check in at 7pm, dating begins at 7:30pm
Regular Nerd Nite Presentations-Only at 8:45pm:  Free!
Openhouse Gallery
201 Mulberry Street, New York, NY
About CNET Gotham
Which gadgets should be on your holiday wish list? Find out at CNET Gotham, a 5-day event at the Openhouse Gallery in Nolita. Chat with CNET editors, attend exclusive parties, and get your hands on today's hottest tech and consumer electronics. It's free, and open to the public. Join us!
Back to the Lectures At Hand:
*Presentation #1
Hot or Not? How to be a Perfect 10 or How to Manipulate People's Perceptions on Physical Attractiveness
by Lillian Park
Description: Beauty may only be "skin deep," but several advantages are afforded to those who are perceived as being physically attractive. Perceptions of beauty and physical attractiveness are influenced by several factors, including but not limited to environmental, economic, cultural, and ecological. Valentine's Day is around the corner and if you don't have a date, or you already do, but want an upgrade, Lillian Park will be discussing empirically-supported methods of how you can improve other people's perception of your attractiveness (without having to resort to plastic surgery!).
Bio: Lillian Park is an Assistant Professor of Psychology at SUNY Old Westbury. She tries to teach undergraduates that research methods and statistics are more fun than Freudian psychoanalysis.
*Presentation #2
Hey, Where's My Robot Girlfriend? The Singularity, Sperm Bots and the future of sexual technology
by Laura G. Duncan
Description: The robotic bride. The orgasm ray. The sex machine. These classic tropes of science fiction – how fictitious are they really? Hybrids of sex and technology are flourishing in contemporary culture, from basement workshops where power tools are lovingly repurposed into bedroom aids to media empires with genres devoted solely to robot-human couplings. Technology and sexuality have long been intimately connected, each inspiring innovation in the other and nowhere is this more striking than in the fields of teledildonics (computer-interfaced sex toys) and sexual robotics.
So just how close are we to having a real life Data, the beloved android from Star Trek as fawning partner to our eminently human Tasha Yar? Will we be able to disable our foes with weaponized orgasms? Can you learn to love a robot? Can a robot learn to love you? Using examples from science fiction, the medical sciences and actual sex/tech projects, this talk will explore the past, present and future of sexual technology and its implications for the changing nature of sexuality, technology and the body.
Bio: Laura is a sexual health researcher and student currently studying social inequity in sexual healthcare and the influence of medicine on social understandings of sexuality and the body. She has taught sexual health education in a variety of academic, non-profit and community venues and currently serves as a full-spectrum doula. She is, disappointingly, not a robot.

Hey All,
Hollywood just came a'callin' again.  I was asked to share this casting call.  Here's what they sent me (the all-CAPS are theirs, not mine!)…
LOOKING FOR PASSIONATE AND BRILLIANT "NERDS" from CAL TECH to compete for BIG $$$ AND PRIZES!!!
From the producers of MYTHBUSTERS, SURVIVOR and AMAZING RACE comes a new competition based television show embracing and celebrating passionate and INTELLECTUALLY SAVVY guys and girls 21-30 years old.  Showcase your skills by competing on topics you already know and WIN BIG $$!!!
Are you passionate about:
ASTRONOMY, MATHEMATICS, PHYSICS, BIOLOGY, and CHEMISTRY?
Are you a super fan of STAR WARS, STAR TREK, GAMING?
Do you build ROBOTS and write APPS and PROGRAMS for fun?
Do you consider yourself a MAKER or DIY person?
Do you compile your own LINUX DISTROS?
Do you love everything SCI-FI?
Are you ARDUINO proficient?
Can you count PI to 50  or more places?
Are you in MENSA?
Have you excelled at the top of your studies? Have you received awards, recognitions or accolades for your academic achievements or hobbies? Are you a passionate person who is intellectually driven & has been typecast most of your life?  Are you ready to compete against other NERDS in a competition show that will showcase and celebrate your smarts?
If you answered yes to any of the above, consider yourself a geek or nerd and are between the ages of 21-30, WE WANT YOU!
BE A PART OF A SHOW THAT DEFINES A NEW GENERATION OF NERD
HOSTED BY THE ORIGINAL UBER NERDS FROM "REVENGE OF THE NERDS"!
MUST BE INTELLECTUAL.  MUST BE PASSIONATE.  MUST BE READY TO WIN BIG$$!
EMAIL: KINGOFTHENERDSCASTING@GMAIL.COM
Include your name, age, photo, contact info, and brief bio on what makes you today's MOST INGENIOUS nerd!
I can't believe we're already days away from our FOURTH season at Galapagos Art Space in DUMBO, Brooklyn.  As we get ready for a night of presentations, music by Palomar, science acrobats, and more, I can't help but express the gratitude I feel toward the greater New York City area for supporting Nerd Nite for so long. New Yorkers are notorious for having incredibly short attention spans – ooh, look, that dog has a puffy tail – so the fact that we still get a full house after all the years is incredibly flattering.  I guess we're on to something good, and I'm glad the audience continues to recognize it.  So see you all in 10 days for a 4th year of Brooklyn nerdery, even though we've been at it in NYC since March 2006.  Thanks for all the support!
Enjoy a meat drummer video by Palomar while we wait: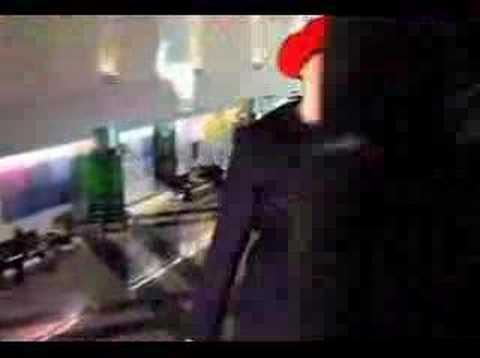 Matt
Though I've certainly heard the comparison over the past few years, there seems to be some kind of weird groundswell/critical mass of comparisons between Nerd Nite and TED Talks.  Just in the last two days I've had eight unrelated people ask me how Nerd Nite compares to TED Talks.  Unfortunately, my reply isn't usually particularly flattering for the good people at TED, and, frankly, I'm kind of afraid to put my common answer into writing.  TED Talks has done a fantastic job of cultivating an astronomically large worldwide following, and that is certainly to be commended.  Being able to attract the most upper of the upper crust is quite laudable and will always encourage a tremendous amount of coverage.  But what I've been hearing lately is that Nerd Nite is somehow starting to push TED to evolve its content.  It seems – and this only what I've heard, not seen first-hand – TED has kind of painted itself into a corner of only being able to get the top .1% of the top .1% of presenters in the world and that it has created an impossibly high standard to maintain.  After all, there's only one Bill Gates, Steve Jobs, Malcolm Gladwell, and President Bill Clinton.  So how does TED maintain its quality of presenters?  So apparently, according to what I've been hearing, this is the void that Nerd Nite is filling – Nerd Nite is more for the common man.
A lot of past Nerd Nite attendees have enjoyed the fact that it's an informal atmosphere in which everyone can drink and socialize while learning (and only pay $0-$10 instead of $6,000).  They seem to enjoy having a cocktail or four while hearing a funny-yet-smart presentation.  And, in particular, when a presentation is given charismatically and humorously, it's all the better.  And I've been told that it is in fact the content of TED Talks that has been suffering recently.  Which I guess makes sense.  I suppose when an organization puts a lot of established millionaires on a stage for 18 minutes that the content won't be particularly novel or controversial because those folks all have a lot to lose by going too far, whereas the typical Nerd Nite presenter is often at the beginning of his or her career and is trying to get into a more prestigious position.
So I just want to thank all of the up-and-comers around the world who keep coming to Nerd Nite, as it seems our audience is the next generation; hungry, scrappy; innovative, etc.  Thanks for all the support…there's a lot more to come!
Matt
-And by the way, I'm sure the folks at TED Talks have no idea what Nerd Nite is (I feel like Nerd Nite is a garage band that infrequently gets compared to The Beatles) so I guess this post didn't upset anyone over there.  We certainly know our place in the world.  And obviously TED is a great organization for sharing great content across the globe.  Keep up the good work, TED!
A producer from MTV asked me to let you know about a casting call for a new show they're working on.  Here's the casting call notice:
Attention nerds: Live in NYC? Wanna be on MTV? MTV is looking to meet big and interesting personalities… especially NERDS!!! You should currently live in/around NYC, appear between the ages of 18-22 years old and feel comfortable being and sharing yourself on-camera. Please email a recent picture along with a brief description of yourself and what you're all about to:  OpenCastingCall123@gmail.com